5. June 2023 – Techano Oceanlift has successfully completed delivery and commissioning of the new and upgraded live fish transfer system provided to SalMar Aker Ocean's fish farm, Offshore Farm 1.
The business, which has since been re-branded to Techano Oceanlift, was awarded the contract for two of its FTS500 fish transfer systems in March 2022. The systems were during this winter delivered to Aker Solutions' Verdal yard, where the offshore fish farm underwent a functionality upgrade. Recently, the first live fish transfer operations were successfully executed with the new and upgraded system.
"We have received feedback from SalMar Aker Ocean that the first fish transfer operations went smoothly, keeping stress levels for the fish to a minimum. They challenged us to design a system that would secure optimal fish welfare, so we are delighted that the first operations showed good results," says Øystein Bondevik, director of business development and sales at Techano Oceanlift.
Techano Oceanlift has delivered two sets of its FTS500 live fish transfer system. It has been developed to ensure safe and efficient transfer of live fish between aquaculture installations and live fish carriers even in harsh offshore environments.
The FTS500 system includes safety measures such break away couplings and escape prevention valves. Each system consists of two sets of pipes and hoses – one for delivery and return of fish and one treatment line – with individual valves in high grade materials for marine protection. The valves have failsafe operation in case of loss of power or emergency disconnect.
Techano Oceanlift is a specialist in load-handling – including fish hose handling – and lifting equipment for the aquaculture, renewable, offshore and marine industries.
For the Offshore Farm 1 project, the company conducted all engineering and project management from its headquarter in Kristiansand, Norway. The large majority of the fish transfer systems was manufactured in Norway.
"Techano Oceanlift has a strong position within load handling and lifting equipment onboard fish farms operating in exposed and offshore conditions. This is a perfect fit for Nekkar's strategy to develop new products that can unlock new growth opportunities for the aquaculture industry," adds Ole Falk Hansen, CEO at Nekkar.
Offshore Farm 1 is the world's first offshore fish farm, representing a first step towards a new era in aquaculture. It has a diameter of 110 metres, 68 metres in height, and holds a volume of 250,000 cubic metres.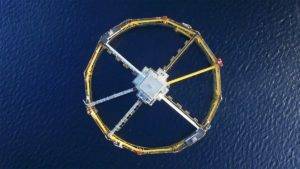 For further information, please contact:
Øystein Bondevik, Director, Business Development, +47 907 11093, obo@techano.no