Techano is delivering a tiltable slipway for use on an Akva Group delivered feeding barge for Arctic Offshore Farming. The slipway is designed for harsh weather operation (offshore northern Norway 365d/y) and has a unique heave compensation / wave dampening system. The slipway can also lift the boat out of water and into a horizontal position.
As part of the delivery, Techano is also supplying all cylinders for operation of the barge rear gate, a dual-pump HPU, butterfly valves and a touch-screen based control system for operation of the entire slipway area including HPU, rear gate, water control, lights and slipway.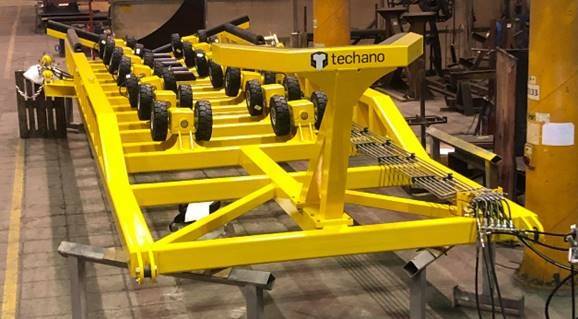 Techano is the world's leading brand of engineering solutions and services for handling marine cargoes and offshore loads. Techano products serve the offshore, marine and renewables markets, on board ships, offshore rigs, SOV's and fishing industry.
For further information please contact:
Techano AS
Øystein Bondevik
+47 907 11093
obo@techano.no
techano.no