Techano recently completed the delivery of a custom-built loading arm to Glencore Nikkelverk AS in Kristiansand. The system is designed to supply sulphuric acid from tanks at quay side directly to vessels. The fluids are transferred via piping installed on the loading arms to the connecting supply hose at the end of the outer arm towards the vessel tank. The loading arm is delivered as a complete unit incl. winch and hydraulic power unit. The system is operated by a portable radio remote control.
The delivery also included full site commissioning of the crane and operator training courses.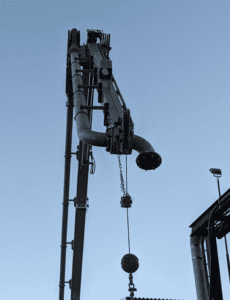 The product shows Techano's ability to use existing design and technology from our long track record of offshore load handling into new areas of operation.