Techano has received strategic order for equipment for Salmar Aker Ocean's fish farm, Offshore Farm 1 and with this continues to strengthen its position within handling equipment onboard fish farms operating in exposed and offshore conditions.
The Offshore Farm 1 is scheduled for a major upgrade, to among other things make it more secure. The upgrade will be carried out at Aker Verdal during 2022.
The recent order includes 2 sets of Fish Transfer Systems (FTS500) The FTS500 is designed to ensure safe and efficient transfer of live fish between aquaculture installations and live fish carrier (LFC). Designed operation in harsh environment maintaining Techano's high standard with regards to HSE and fish welfare.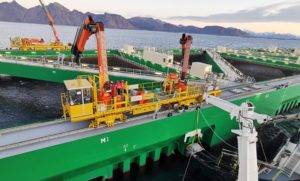 The FTS500 system includes safety measures such break away couplings and valve escape prevention valves. Each system consists of 2 sets of pipes and hoses with individual valves in high grade materials for marine protection. The valves have failsafe operation in case of loss of power or emergency disconnect.
«»Techano confirms its world-leading position as a supplier of advanced load handling equipment in offshore aquaculture, a growing and important market for the future" says Øystein Bondevik, Sales & Business Development Director at Techano.
About Ocean Farm 1
The world's first offshore fish farm. It represents the first step towards a new era in aquaculture. Based on world-class Norwegian aquaculture and offshore technology, Ocean Farm 1 aspires to address central issues related to sustainable growth in the aquaculture industry.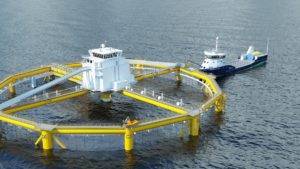 Key dimensions Ocean Farm 1:
Height: 68 m
Diameter: 110 m
Volume: 250,000 m3
For further information:
Techano AS / Øystein Bondevik
+47 907 11093
obo@techano.no
www.techano.no