Norsk Havvind, Iberdrola and TotalEnergies visited Kristiansand and the facilities in Kongsgård.
The meeting was hosted by Kristiansand Business region and held in the offices of On&Offshore and Techano.
The Mayor of Kristiansand, Mr. Jan Oddvar Skisland, opened the meeting by welcoming the visitors to Kristiansand. Presentations was held by Kristiansand Kommune, Kristiansand Port, Techano AS, On&Offshore Service and other local companies.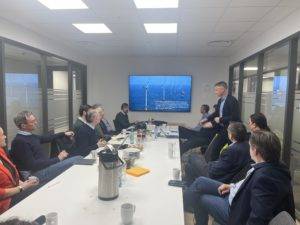 The visit was concluded with a tour of the facilities, showing the consortium the unique facilities and opportunities in Kristiansand and at Kongsgård Port.