Former Minister of Energy Tina Bru, Henrik Åsheim, Peter C. Frølich and local representatives from Høyre, visited Techano and On & Offshore last week. The companies presented themselves and with key focus on the Kongsgård Port unique potential to serve as a Base Station for the coming Offshore Wind opportunities.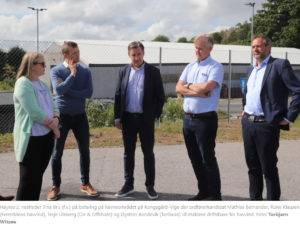 The Port is located centrally in Kristiansand with direct access to port, main road, airport, rail and all key facilities of a major city including University of Agder. With the offshore wind development area Sørlige Nordsjø II nearby Kristiansand will be the natural choice for such a location. Kristiansand will be the Future Energy Capital.
You will find further information at Energi Hub.
Link to the article in the paper.